Welcome to another combined loot of mine, where I put a lot of random smaller buys, gifts and happenings to make one blog! For my previous one see:
BLOG #47716
, this one will continue where the last one stopped. I will talk about things I acquired and did from October 2020 to May 2021.
Asian Supermarket purchase
I was very excited about this package as I really missed during the pandemic to be able to order candy and snacks from Japan at least a couple of times a year. Currently that's not worth the gamble with the delays in international shipping giving you a high chance of the items arriving after expiration date. So I decided to try buying from East Asia Mart
www.east-asia-m...
, located in another city in Finland than where I live, so I knew shipping would take a week or 2 at most and this order would be safe from delays.
I also bought a lot of items for general use with cooking.
Let's go through the items one by one! The first one up is Pocky with matcha flavor. I always like trying new kinds of Pocky and a while back matcha KitKat was a big hit in our household. This Pocky one I would also highly recommend!
Not sure why the Asian supermarket was carrying this one (maybe it came from the same importer as their other goods?), but I always love banana chips, so I couldn't pass up trying a new brand. They were great, would definitely buy again.
Potato based Korean vermicelli...the description intrigued me so much I had to buy it! The taste was very nice, although they might be a bit too chewy for what I normally would like. I am not sure if I would buy it again.
I love Golden Curry, so when I saw that this shop stocked them, I couldn't help but throwing a package in the order.
Something that has interested me for a while to purchase for kitchen use, but I never did so far, was MSG. Lots of people swear by using it as a flavor enhancer (mainly in the Asian kitchen), but also lots of people will go wild claiming it is unhealthy for you. So far I liked cooking with it, but I mainly noticed an increase in a nice smell of the food, rather than an increase of the actual flavor in the food. I am wondering if I should be adding more into it the next time I use it. I also want to be a bit careful with it as it's not
that
healthy.
A while back I made okonomiyaki for the first time, using regular breadcrumbs. I loved the flavor a lot and though to myself 'wow, this must be even better when using actual panko!', so I bought panko for mainly that reason. It was indeed even better tasting!
I also bought a big bunch of Boss Coffee cans. Rainbow is my favorite of their flavors.
I also got Café au Lait and Black.
I am always intrigued by limited edition anime drinks, so I bought this 'mystery flavor' Detective Conan drink.
The drink was a sweet flavor, with a bit of a sour aftertaste. It reminded me a bit of Pez candy in a liquid form. I was a bit indifferent about this drink, I wouldn't buy it again.
A Fanta flavor that I think is exclusive to only some Asian countries (and Germany?): Strawberry Kiwi Fanta. This one was very nice, but extremely sweet. It tasted more like strawberry than kiwi. I did like it a lot though and would buy a second time.
Chupa Chups Melon Cream Soda: no, just no. I always hear great things about Cream Soda from Japan and wanted to try this canned version, but...no. It had extremely artificial flavoring and the cream part tasted suspicious (bad powdered milk?). I wouldn't buy again, but I am still intrigued to try a real fresh one in Japan one day!
And the last item from this box was a pack of semi-fresh papadoums. I always love the flavor of these in Indian restaurants and as I also bought Golden Curry, I thought it would be nice eating them alongside it.
Preparing them was quite an adventure, their smell while preparing is intense and one small move wrong and they will be over- or undercooked as their preparation needs to be done very fast in very hot oil.
As I made more, my papadoums would be tasting better and have a better structure, but in the end even after trying new techniques, mine remained too oily and too heavy compared to the papadoums that have been served to me in restaurants.
After more attempts I got better at them, but I am not sure if I would ever make them again, just thinking back at the smell and the extreme heat while preparing them...maybe I'll stick to just eating one whenever I decide to get Indian food in a restaurant/take-away...
And here is the whole loot together! A very good purchase if I say so myself!
Mystery Geeky T-Shirts pack
My husband and I decided to for a final time get a Mystery Geeky T-Shirts pack from Zavvi. We would normally do this around once a year because my husband is not very picky when it comes to t-shirt prints and this is a good way to have a bunch of fun new shirts in one go. However, this is the final time as we did this order late 2020 and starting 2021 with Brexit, every package from the UK is subject to heavy custom fees. That makes these mystery shirts in total so expensive it does not make sense to purchase them as we could get t-shirts from local stores for similar prices and that way you can also pick the prints.
Without further ado, let's check what we got this time!
The way it was shipped to us was...something, as normally this prepackaged pack would at least get another bag or box around it. There was a small hole in the bag, but luckily nothing damaged or spilled out.
And this first one was...a shirt we already have! Welp, not a good start of the unboxing.
It's a shirt from Bill and Ted's Excellent Adventure. It's interesting this one was apparently not that popular as you would expect with the new movie that the popularity would have shot up.
The next shirt my husband did not like, but as I like zombie stuff I claimed it. It's from Call of Duty Black Ops III, a franchise I personally don't care much about, but I just like the art on the shirt.
The next one was quite a surprise because we did not expect a sweater to be included! It's from Assassin's Creed.
Blast from the past! A t-shirt from X-Files.
A t-shirt from Far Cry Primal, we both did not play this one yet but the print on the shirt is nice!
The next one we thought was aesthetically very pleasing, although we both have not played Destiny yet (we do own the first one).
This one was a big hit as my husband is fan of Dishonored!
I was surprised to find an anime t-shirt in there as we have not gotten anime shirts in this mystery box before!
The anime is Gate
ENTRY #87662
and we decided to watch it together after receiving this shirt, I also made an entry for the shirt in the database here:
ITEM #1148681
. Our opinion on the anime is very mixed. It had some good moments, it had some bad moments, so I guess in the end it's average? We didn't dislike watching it, but I also would not really recommend others to watch it.
Anyway, the shirt is very cool looking and the gold is also glittering, so my husband will be wearing it anyway. In the small chance someone recognizes the logo we can at least say we saw the related anime, haha!
Then I was surprised at...another anime shirt! It was from Hypersonic Music Club, which I never heard of before. Some researching online brought me to multiple news articles of this being an 'original Crunchyroll manga' where apparently they had big plans and also started a line of merchandising...for eventually the series only getting 1 chapter before disappearing and never being heard of again... If you're interested, you can read the chapter here:
www.crunchyroll...
.
My husband didn't like the t-shirt much, but I thought it was pretty cool looking with the colors especially, so I ended up claiming this one.
And last but certainly not least in the box was this Mandalorian t-shirt. We were very surprised as we thought this franchise was still highly popular so it wouldn't end up in grab boxes!
The effect on the print is very cool!
We're a bit sad we won't be able to do these grab boxes anymore, but we're happy that our last one was a very good selection!
Fangamer loot
By coincidence we are getting into another clothes loot! I had been eyeing some items on Fangamer for a while, but their stuff is quite pricey for me if it's MSRP + shipping from USA to EU + customs. So that's why whenever I see items I want there I wait until there is some kind of promotion.
This time the promotion was very interesting! Late 2020 they did a sale where every item you purchased gave you points that you could use on mystery items! I ended up buying a sweater, sweatshirt and 2 t-shirts I wanted for a while, which gave me enough points to get a big pile of mystery shirts! Most of these are older releases or overstock, but sometimes you get lucky with some more recent items.
Sneak peek of what is to come! But let's start with the actual items I ordered!
First up was this Resident Evil 3 sweater
ITEM #1035561
! What I always like with FanGamer is that they have unique stickers for the items on their packaging and regularly their releases come with some kind of bonus, mostly a sticker or button. Makes the item feel more luxurious!
I really like the 'retro style' of the print on the sweater.
The back has this big print of Nemesis. Hrmm, I might have actually liked it more if the front and back were flipped...but oh well! There seems to be not much merchandise made from RE3, so I am happy to add this one to my collection.
Then this Nemesis longsleeved shirt
ITEM #1035566
!
I really love that this one also has a print on the arms and the general look of the front print is so neat as well!
The item I was probably most excited about was this Silent Hill 2 shirt with Mira
ITEM #1035545
, also coming with an adorable button
ITEM #1035550
.
The print and the shirt are such nice quality! But as expected from Fangamer! Their stuff rarely goes on sale except for when there are promotions like this, and it really shows in the item quality.
The button is lovely as well. I contemplated giving this button to a friend who is a huge Silent Hill fan, but I also kind of want to keep this set together...hrrrm.
Fangamer also had a new design in their Myst line and my husband is a huge Myst fan, so he gladly added this one to his t-shirt collection.
The coloring and general design of the print is great!
This release came with an additional sticker of a very cool way I haven't seen the Myst logo designed before.
And now for the mystery shirts:
First up was this shirt from the game Nex Machina. We thought it was very funny we got this one as the studio that makes this game is located in Finland! So a Finnish company decided to get a t-shirt designed/sold by an USA company to eventually end up in a mystery bag for people living in Finland.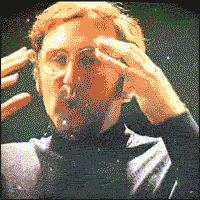 Nice art and usage of colors!
I was very happy to receive this shirt from VA-11 HALL-A! I'll be honest, I have not played this game, but I admit I was looking at this cute dog and cute shirt on the Fangamer website contemplating to maybe just get it because it's so cute. So getting this as a mystery shirt was great!
So cute, hehe.
I have also not played Undertale, but I do like the look of a lot of their merchandise.
No, these are not blurry pictures, this is the intended design of the shirt! Also from Undertale.
Before Fangamer made licensed shirts they actually made fanart and parody shirts. Once they went fully licensed and started advertising with that, they slowly started removing the unlicensed stuff from their website, I assume this BitBoy shirt is a leftover from that. It's not listed on the website anymore, so I think you can only get it in promotional deals like this.
The design is a bit simple, but I do like it!
This shirt also came with a bonus matching button.
Another one of the leftovers of 'before the licensing', this one related to Super Mario.
While the idea of the shirt is very nice, the print is very hard to read unless you wear this one outside in daylight. So in person this shirt mostly looks just like a generic grey shirt, my pictures are making it look a lot better.
I like how the print is also on the sleeve.
Fangamer works together with multiple charities each year and this is a t-shirt from one of those collaborations. Normally you purchase this t-shirt and a part of the sales price goes to the charity, so it feels kind of weird to get a charity item for basically free like this.
The shirt is definitely giving me retro wave vibes, so I like it!
They also always give a small 'thank you' ziploc bag with every order, it mostly contains some information about upcoming releases and some small goodies.
This time there was a postcard in there,
which I think is from Stardew Valley?
I've been corrected by
BEARCAT
that it's the Windfish from Zelda Links Awakening!
There was also this flyer and a small Stardew Valley sticker.
Oh! Seems like there is a 'collect them all' for these!
Remember my earlier showing off of the 'sticker fridge'? There are some updates to it now! The design of that Myst sticker is so nice!
Random visitors!
Warning: Images contain bugs so not everybody might like it!
View spoiler
Hide spoiler
I would also use these blogs regularly for some random diaries and other picture moments and with not much happening in 2020 here is another random moment!

I moved to a new country in early 2020 and over here there are a log of bugs I have never seen before! I am not an expert on these creatures in any way, but here are some pictures of pretty ones that have visited my balcony!

Don't judge how dirty it is, because it's outside.






I have never seen such a shiny bug before, so cool!




I don't know what this little fella is, but he's cute!
Christmas 2020
Christmas was arriving (2020 went
fast
for us with all the days blending together while working from home during the pandemic) and we did a couple of gift exchanges.
We put together this 'traditional Finnish package' to ship off to multiple family members. Moomins and salmiakki, it almost can't get more Finnish except if I would have put something sauna-related in there.
I also entered a Secret Santa locally (with international ones not really possible at the moment with international shipping restrictions) and I was lucky to get a person asking for 'sewing supplies and general cute items' as I could put together this cute package! I also always like including some items from my home country (the Netherlands), so I put a Miffy bag there.
I put on my wishlist that I would like to receive socks back and my Santa delivered! That's 6 pairs of socks in total! And a little Santa hat headband, hehe. I actually gave away all of my Christmas decorations before my last move, so I like getting Christmas items back in my household this way!
As Christmas gifts to ourselves we bought these Blue Caraco and Bailey's bottles. With lots of shipments for all kinds of goods delayed and not much calm shopping options outdoors, it seemed fitting for 2020.
Such a shiny blue color!
We also, for the first time ever, attempted to make a gingerbread house as my work place gifted a 'DIY Gingerbread House set' as a Christmas gift. If it wasn't for the icing not being as smooth to handle as we hoped, it would probably gotten decorated more heavily, haha!
The pose, the power, the presence!
Also around this time my husband finished laying one of his puzzles (a hobby he has) and I thought other people might also enjoy these pictures:
Another gift we received for Christmas was this big Moomin throw rug/blanket. As we have an older couch of which specifically this one pillow had it's fabric damaged, this was a perfect solution and great timing to get this item! I love the print as well!
And then what my family sent us topped all of the other items, although I do have to add only half of the table was for Christmas, the other half was delayed birthday presents from 2020 for us both:
We right away started playing the Settlers of Catan Seafarers expansion set and all the PS4 games are on our piles to play soon!
We played a normal scenario and a 'discovery' scenario. A long time ago I always played this expansion regularly at a friends' place and I was so happy to finally own this one myself now too!
As an additional Christmas gift to ourselves we got these nice chocolates to snack along while playing~
Gorillaz shop order
You might remember from my earlier blogs that I am a very big Gorillaz fan, so for every new big release they do, I order it. When Gorillaz announced 'Song Machine Season One' (their newest album), I right away ordered the Deluxe Almanac edition. However, I was met with 2 disappointments: 1) There were huge delays with printing/shipping the almanac which made me wait very long to get anything and 2) They also announced a separate 'deluxe' album with multiple exclusive songs that were not in the almanac version, basically forcing fans like me to double dip and buy the album twice...sigh, what I all do to support this band...
Because of the delays with the almanac, Gorillaz decided to ship the 2 albums first separately, which I'm going to unbox here.
And here is all of it! From left to right: Deluxe edition album, note for Almanac buyers and the almanac edition album.
The backside of the Almanac apology note.
The almanac edition album is...literally just a cardboard sleeve with a CD inside, really? I guess it's supposed to fit in a specific compartment inside the Almanac, but still...really? The Almanac itself better be good to make up for this...
I like the artwork on the back though.
Luckily it seems like normal edition buyers weren't shafted with only a piece of cardboard to keep the CD in and they got an actual jewel case.
Now we get to unboxing the fancy Deluxe Edition!
Looking good!
I'm afraid removing the CD's too much from the packaging might damage them, so as what probably most other physical album buyers do is that I ripped them to my computer and stored the CD's to probably never get unpacked again.
This edition luckily comes with a booklet with multiple nice artworks!
And this 'puzzle page' which is 'how many references can you count?'. I love how Noodle and 2D are looking here!
As for the actual album, there are some very nice songs on there, but it's not a favorite of mine. A couple of the bonus songs of the deluxe version are very good, so if you're interested I would recommend getting that edition.
Cute socks!
Some cute socks I bought and wanted to show off!
I never received socks vacuum sealed, haha!
They are so fluffy!!!! I guess the seller saved a lot on shipping by vacuum sealing them? Haha!
Baccano! book #15
Another Baccano! pre-order had arrived! This time book 15
ITEM #358994
, I am so behind on reading them though, aaah!
This book has for a change more 2-page spreads for images than earlier volumes.
Food!
The previous time I included cooking and food/drink buying experiences in this blog it seemed to be quite appreciated, so I'll continue this in the spoiler!
View spoiler
Hide spoiler


Luxurious~ hot dogs!




When I ordered at a local bakery they had 'traditional Finnish lemonades', so I wanted to try out this one. It was very nice, although a bit pricey!




On recommendation from some coworkers I decided to get coffee and tea from Finnish store Kaffa Roastery. This is the first time I ever received something that said 'please bend' on the packaging!!




I got a black and green tea and coffee. The coffee was a dark roast with some hints of chocolate and very nice (I think I want to buy it again!). With the teas I am also very pleased, especially the green one has a very nice nutmeg smell.




There were halloumi fries as a temporary menu item at the local Burger King and the packaging was so cute! The fries were nice too, but so heavy and filling as it was basically deep fried cheese!




We ordered pizza and I also picked up this Italian lemonade alongside it. It was a very nice normal orange combined with blood orange flavor! Would buy it again.




With the leftover Christmas sprinkles we had lying around we made our yearly tradition rainbow cake a lot more festive!




The inside of the cake wasn't as pretty looking as previous rainbow cakes I made, I blame my new oven actually as it was a lot harder to make all the layers cooked correctly. I made notes to avoid this disaster for next year, though!




We baked cookies based on an American cookie recipe. They were very nice, but...too easy to make?! I know it sounds weird, but we finished making them in a couple of minutes and it feels so weird to have a baked good that are so...easy?? But the flavor was very nice and I would definitely make them again!




Get ready for some mouth-watering pictures! My husband got from his workplace as a Christmas gift a 100 euro voucher for a fancy sushi place, so boom! Here is our super order

no worries, we didn't eat all of it in 1 sitting, this was multiple dinners

!




As you can see, they had quite some items that are not traditionally Japanese to put in sushi.




I also had a matching poké bowl, but the blocks of fermented sushi were a bit too much for me.

Overall it was very nice sushi with interesting recipes/flavors I had not tried before, but I don't think I would buy from this place myself without a voucher.




I did not have the Finnish version of donuts, called munkki, before! It was very nice! These were munkki from the supermarket and people keep on telling me the ones from actual bakeries are nicer, so I will try that out too in a while!




Monster Coffee apparently already exists in other countries for a while, but it's new to get where I live! I was able to get a tray online and try it out.

The flavor was nice, but the aftertaste...kind of odd. I do enjoy drinking these, but I don't think I will buy it again. Maybe another one of the flavors in a while (this red one is espresso and milk flavor).




Another yearly returning recipe we make is a recreation of our wedding cake on our anniversary!




Something I had been looking for a long time for since I moved to Finland, was lemonade syrup. Well, it took me almost a year but I finally found one (1) supermarket carrying a couple of flavors!




Even better bonus: I had for the first time ever a drink in this glass that perfectly matches Pooh's shirt color!




I also followed a recipe for 'luxurious' grilled cheese. Underneath the cheese is a tomato-paste with sauteed onions and a lot of spices from my spice rack. It was very nice, but I am not sure if I would make it again as it was a lot of effort for food that you consume very fast.




A very special purchase for us: A bread baking machine! Man, we should have bought this thing a lot sooner, especially now with working and eating a lot more at home.




Our first bread was a bit too pale, but had a nice structure. We spent the following months perfecting our recipes and trying all kinds of flours!




Something special we treated ourselves to on Valentine's day were these very luxurious donuts from a local donut place!




A local ice cream brand is 'pingviini' (penguin), which has the cutest logo! And I also think the Finnish word for penguin is just super cute.




Remember the bread baking machine I showed off earlier? It can also bake cakes! Here was my first attempt at making a pound cake in it. It was...not that great, definitely needs a lot more work. It was too dry and the cacoa flavor was not strong enough. Time to try more and improve!




Not the prettiest picture, but I also followed a recipe for the first time to make shepherd's pie! It was incredibly time consuming, but the recipe made so many portions we had 4 dinners out of it!
Random stuff
Here is just a pile of random things I could not find any other fitting header titles for in this blog!
The earlier mentioned Silent Hill shirt
ITEM #1035545
worn!
I got this tiny zombie Hello Kitty
ITEM #914024
gifted a while back! It's now hanging on my phone case. Glows in the dark too!
I also (finally?!) started watching Jojo. I have watched part 1, 2 and 3 now. This was my favorite moment LOL.
I also finally unsealed (and played) Ni No Kuni II, which had been on my 'to play' list for a long time!
I really enjoyed the improvement in gameplay and graphics compared to the first game, but this one...something was missing. The story wasn't as well done as the first one for sure and I felt a bit less Ghibli magic. Still I would recommend this game to other JRPG fans!
Om-nom-nomelet, hehe!
This is super random, but I had to laugh so much at this pouch some random hair elastics I bought on Amazon were shipped in. I will use it for toiletries the next time I can go on vacation again (2022??? maybe??? please???).
Here is a picture of me editing pictures for one of my Maakie's Collection blogs! To be specific, entry #8
BLOG #47175
.
I bought this very pretty Finnish nature postcard to send as a birthday card and wanted to make sure I got a picture of it before sending it off!
A box of vacuum sealed cuties had arrived!
Doggies!
Kitties!
These are from the same brand as the earlier avocado socks I showed. I was so pleased with their fluffiness that I also ordered these. Unfortunately I didn't realize with the kitty ones that the bell around their necks is a separate pieces, making these not that comfortable to wear in shoes unless I would on purpose cut their bells off.
And the 'creepiest looking package I got in 2021'-award goes to...these glue tips! You can put them on the end of a glue tube and use them for a more precise application. I bought these because I got more into papercrafts again in 2021.
Another puzzle my husband completed that I thought others would like to see as well:
Dorohedoro snaps
As I've been talking about in earlier blogs, I got into a heavy Dorohedoro obsession recently. It is in general a great series that I highly recommend. There are a lot of cute moments, wise sayings and funny expressions in the manga, so I decided for my own enjoyment to keep making snaps of my favorite moments. Then I thought, why not share them here so others can enjoy them as well? As a warning, some of them are spoilers. They are placed chronologically so you could open it and then close the spoiler tag once you hit something you have not seen before!
View spoiler
Hide spoiler


This kind of stuff makes me so happy to have ordered ITEM #1063921 ! I can't wait to put Ebisu in all kind of silly poses!




The comedic timing of this is 10/10.




Wise words, Ebisu. That's why I have been spending so much money on Dorohedoro merchandise!




I shouldn't forget another favorite character of mine: Kaiman has way too many funny expressions!




Eyeing that prize...




Tanba's wife is definitely ripp~ed goals.




I want such a snugly coat!




Oh no, Ebisu!




Absolutely the cutest panel in all of Dorohedoro, I am not open for discussion about this. 100/100 rating.




En's mushroom obsession knows no limits, but I keep on being surprised at how much more mushrooms I keep on seeing!




She is beauty, she is grace!




Probably one of my favorite pages of the whole manga, I really hope this will also be put in the anime!




Pick your mood!




I love this panel too much!




Is this a Jojo reference???




Our gyoza-queen!




Am I the only one that regularly thinks of Risu as a cat in a human body?




I can't wait to see scenes like this in a new season of the anime!




Kikurage is soooo cute!




There are multiple pages where the characters show off merchandise from the franchise and this specific artwork is

so adorable

. Here is Kaiman and Nikaido buying this ENTRY #47268 gashapon set. I love the discarded En on the ground, haha! It's too bad the set is so expensive nowadays, but I would love to pick it up one day!




Always prepared!




10/10 cutie.




Still 10/10 cutie

seriously Kaiman has the best faces

!




I can't wait until this comes up in the anime too, haha!




Ebisu, please.




<3 <3 <3




<3 <3 <3




<3 <3 <3 <3 <3 <3 <3 <3 <3 <3 <3 <3 <3 <3 <3




And some more Dorohedoro merchandise being shown here! This time the Gyoza Man trading figure set ENTRY #105117 (which has a secret Johnson!).




I actually got quite emotional once I reached the last manga. I got very heavily into a Dorohedoro obsession in 2020 and although there is still piles of merchandise to buy and I can rewatch and reread the series...I was still kind of sad it was coming to an end. So I snuggled up in my Hamtaro blanket and braced myself! Luckily I was very happy with the adorable ending I was served.




I hope Kasukabe will wear this t-shirt of his wife in the anime, it's so adorable! Also, do others also wish there was more shown/told about how he met his wife and how they ended up married?? They seem like a very fitting couple (also in their weirdness), so I would have loved to know more!




MY HEAAARRTTT. <3




#1 in the top 10 anime betrayals.




Thank you for all the nice memories, Dorohedoro! I will keep on treasuring this franchise

and continue to buy merchandise so there is going to be an anime season 2 fully funded by me

!
Gorillaz Almanac
I ended up receiving an unplanned package...it was the earlier missing Gorillaz almanac!
I was happily surprised at the book being very big and of great looking quality!
This definitely makes me forgive a lot more in what a horrible edition the matching CD came.
It is definitely an almanac in a way that the content is very random, we have comics...
...stories...
...Peanuts style jokes about the band...
...lots of fake band-themed advertisements...
..but most favorite! The middle pages of the book have a history going from older Gorillaz artwork to the newest, all on extra heavy quality pages!
I still can't believe we got the whole 'Ace is now part of Gorillaz' part, haha!
Then we go back to more random content, there are quite a lot of pages with Gorillaz cosplayers...
..fun facts about Kong Studios (I always laugh at the stuff they come up with, like now there being a portal in the toilet? LOL)...
...Gorillaz pub quiz (I have not taken it yet!)...
...to end with classic mascot Bonesy!
A very nice book where I will sit down to read it more properly later. I am definitely very excited about owning this as an Gorillaz fan. They delivered!
Package from the family
From my family, my husband and I received a package with a combination of purchases we left behind there in 2019 when we visited (didn't fit in our suitcases back then and we didn't expect with the pandemic that it would have taken so long to be able to receive it), some earlier not received gifts for different occasions (because of cancelled trips with the pandemic), and some local to them snacks!
Everything that is in there, left to right, top to bottom:
- Dangan Ronpa Trilogy for PS4
- Persona 5 Royal for PS4
- Kanjers cookies (syrup waffles)
- Herbed sunflower seeds
- Different kinds of bread spread
- Milk chocolate Easter eggs
- Salmiak licorice (very different from the ones they sell in Finland!)
- Tony Hawk's Pro Skater 1 + 2 Remaster for PS4
- Ghost of Tsushima for PS4
- Escape Room board game 'The Dark Catacombs'
- Lego Batman chocolate egg
- Hello Kitty heart shaped candies
- Jawbreaker candy
- Chocolate letter milk and caramel sea salt
- Easter bunnies made out of chocolate
- Extra big marshmallows
- A big pile of comics from a series my husband reads, titled 'Dwarfs'
It did not fit on the table, but there was also a box in a box with my long-awaited pre-order of Professor Oak
ITEM #806057
! When I originally pre-ordered him I didn't plan my emigration yet and his release date was going to be on the edge between which address it would have to get delivered to. So I ended up re-routing it to my parents' place (also because I had no clue yet how customs worked in Finland back then).
Here are a few quick shots from the figure, I fully reviewed him here
BLOG #48715
.
Side-project: making a display case
My husband had been wanting
ITEM #675962
ever since it was announced. When I saw a reasonably priced one early 2021, I quickly jumped on buying it so I could gift it for his birthday in April!
However, as this figure was not going to be part of my collection and display, I needed to find it's own display spot for it. There is a nice place for it on top of one of our cabinets in the living room, however that room is known for catching a lot of dust. So...a display case was needed!
I searched
weeks
for finding a good display case for this very tall guy. When I saw people on the internet with similar issues discussing making their own display cases, I ended up going with that after watching some tutorials. So I bought a bunch of very big acrylic sheets!
Thank you Amazon for your extremely shit packaging...this was supposed to be a secret/surprise for my husband a bit longer but of course he was like "What did you order??? It's so heavy and parts are sticking out???". Shoo! Shoo! Don't look!
Because of the extremely bad packaging I unwrapped them all one by one to make sure nothing got damaged. Luckily they didn't! There were a ton of scratches on the protective foil though, so I got a bit scared some of them would have gone through it onto the actual acrylic. However, I didn't want to take the protective film off now as I would be handling them a lot during my assembly!
I needed to make a set-up where it would hold it's position for a long time. To be precise, the 72 hours drying time from the glue I was using.
This was tricker than it looked because I needed to use weights (books here) to ensure it remained stable and was leaning against something.
Also around this time I found out about Moducases, which had the exact size I was looking for with this item! So I ended up ordering one, but as it was not going to be on time for his birthday, continued to work on this one so at least some kind of display item would be there when he receives the figure. I am by the way still waiting on my Moducase, which is now planned to be shipped to me mid-June.
But yeah slowly, carefully, plate by plate, I was making progress!
I do have to say this is not a very fun experience, though. As it can be pretty nerve wrecking how precise you need to be and one small move or shift and the whole thing is crooked again! So if you can buy a fitting display case for your special figure: Just buy it, don't attempt to make one yourself! It is NOT as easy as some online tutorials make it seem!
Slow and steady...
I made my collection room an absolute mess to have room for this set up and 'censor' it in a way it can't be seen if you open the door to the room (I was still making this display case as a surprise gift!). While waiting or measuring parts of the display cabinet I regularly looked around to appreciate my (work in progress) figure displays. I hope I can work more on it soon! My blog where I talk about how I set it up and why it's not finished yet, you can find here
BLOG #48627
.
Making the silver borders.
My last progress picture, now for the final item, you will see me gift it in the chapter below!
2021 Birthday gifts!
It was almost time for me and my husbands' birthdays, so we received this big package from the family!
The cute dog wrapping paper piles were our 'actual birthday gifts' and the rest is all souvenirs/snacks.
What is a birthday without balloons, right? So I got my husband this cute dinosaur.
And some home baked apple pie!
As for what we did on this day, we played this 'escape room from home' double package, which I showed receiving earlier. Because of it being double, it kept us occupied for a big part of the day!
For the people interested, I'll add more pictures in the spoiler, but keep in mind that this will literally spoil the game if you are possibly interested in checking it out yourself:
View spoiler
Hide spoiler


The catacombs looked so cool!




We have done quite a lot of these escape rooms from home, but this one was definitely the most complicated with it's huge size. I would love to play one like this another time again!




My most favorite (and one of the final) puzzles was this one, where you needed to use a candle light to decipher a code.
And now for the gifts my husband got from the family:
- Rise of the Tomb Raider PC game - 20 year celebration edition - , comes with mini artbook which has mostly fanart from Tomb Raider.
- Digaea 5 special edition, comes with mini artbook and soundtrack CD
- 4 comic books from a series he collects (titles translated are 'Elves', 'Dwarves' and 'Orcs and Goblins')
And my gifts for him:
The shipping box had quite a big dent and seemed to have been re-taped, which had me worried a bit.
But luckily the item inside
ITEM #675962
was in perfect condition! I'm glad I paid for additional item protection (all the wrappers and such I removed for the picture).
Unfortunately my earlier bought Dino-kun was giving up a bit in the corner of our living room, but I probably am not the only one that thinks this kind of stuff is a bit funny?
I gifted my earlier made display cabinet, which still needs some reworking on the edges. Also in general I am not super pleased with the end product and once we have received our Moducase replacement I think I will put this one on top of the Detolfs in my collection room
BLOG #48627
, where the not so good looking details won't be as visible when it's put high up.
The included bonus weapons are very heavy and the figure comes with transparent plastic stands for them to rest on. They look...in my opinion quite cheap. So I wrapped some white fabric around the one that is going to be used as main display with the figure (it was the item my husband liked most also in the game).
And this is the current display spot for the figure! Eventually he will be put in the display cabinet, but as long as my husband is in the 'honeymoon phase' with this figure it will be on his desk.
I'll also do a more proper photoshoot with this figure later and share it in another blog!
A package that was long lost...
Caught up in all of my emigration mess late 2019/early 2020 were multiple pre-orders that I ended up having to send to family or friends in either of the countries. This little plushie was one of them and delays at the shops and at my family caused me to have to wait for nearly 2 years after his release to finally have him in my hands!
I am talking about this plushie of The Keeper
ITEM #783460
of Psychobreak/Evil Within!
My first thoughts were: He is so tiny, but so cute!
I do feel like I overpayed a bit for him though, especially because he still seems widely available and you can get him for $15 with free shipping on Amazon now...oh well.
To demonstrate how tiny he is, here he is together with 2 more average sized plushies (the left one being
ITEM #172622
).
I would recommend him to Evil Within fans for the newer lower price, though! Just keep in mind he's tiny.
See you next time!
I'm at the character limit, so this is where I will end this loot! Next time I'll continue with May 2021 and further!
I hope you enjoyed this blog, you could also check my other loot blogs when interested! Here are some of my recent ones:
Big Loot! Dorohedoro, Tanya, Komugi, Strike Witches and more!: BLOG #48716
Random buys and gifts diary & loot! January 2020 - October 2020: BLOG #47716
Random buys and gifts loot! September 2019 - January 2020: BLOG #46119
Random buys and gifts loot! May 2019 - August 2019: BLOG #46071
Big Loot! Strike Witches, Resident Evil, Moetan, Chrono Crusade: BLOG #45970
All pictures in high resolution and some extra pictures not used in the blog are uploaded here:
profile/Maakie/...
Thank you for reading this review!
And if you like my blogs and would like to receive e-mail updates when I have a new one, you can subscribe to my blog on MFC! -->
profile/Maakie/...
See you next time!